Best Charcoal Grills (Personally Tested)
TheGrillingMaster.com is reader-supported. If you buy something using the links on our site, we might earn an affiliate commission at no added cost to you. This helps us pay our staff to keep making awesome content for you!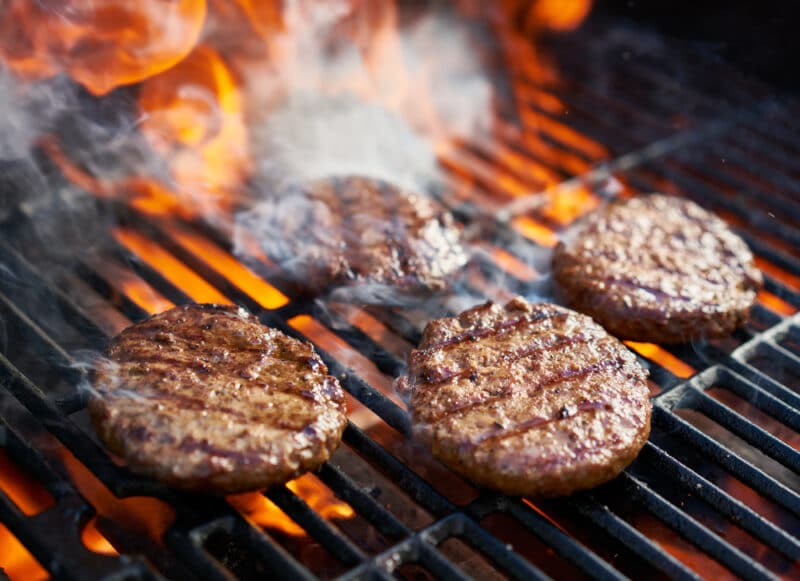 Struggling to recreate that authentic smoky flavor at home? You're not alone; having faced the same dilemma, I discovered that the secret lies in using a charcoal grill. After thorough research and testing, I've compiled a guide about the best charcoal grills available today that deliver an unbeatable combination of taste, convenience, and durability.
Ready for some mouth-watering barbecues? Let's dive right in!
Top Charcoal Grill Options
Take a quick look at our product list for some great recommendations or scroll down to read more in-depth reviews.
1. Weber Original Kettle Charcoal Grill (Best Overall)
Elevate your grilling game with this classic charcoal grill.
Highlights
Superior heat retention for efficient cooking
One – touch cleaning system for easy maintenance
Lid thermometer for precise temperature control
Hinged cooking grate allows for convenient access to charcoal
Heat shield protects against burns and ensures safety during use
Rust – resistant finish for durability and longevity
As an avid griller, I have a deep appreciation for the Weber Original Kettle Charcoal Grill. This 22-inch grill has been my reliable barbecuing partner in countless backyard cookouts and camping trips. Its design choices reflect the user's needs perfectly: The hinged cooking grate allows for easy addition of charcoal while grilling; eliminating those awkward moments when you have to remove food halfway through cooking to refill charcoal. The porcelain-enameled lid and bowl retain heat superbly, ensuring consistent temperature throughout cooking.
Weber added thoughtful touches like the lid hook which prevents you from placing it on the ground – a simple but effective feature that many other grills lack. Meanwhile, the One-Touch cleaning system with high-capacity ash catcher makes post-cookout cleanup a breeze instead of a chore. But what I really appreciate is its large capacity; fitting up to 13 burgers made with a Weber burger press — making it ideal whether for family dinner or entertaining friends at parties.
The reasons mentioned above make this product our No.1 pick among all charcoal grills out there! It's not just about efficient performance, but also longevity as well since both the lid and bowl are rust-resistant along with aluminum dampers ensuring long-term use without any worries about wear-out over time!
Pros
Easy assembly with 3D interactive instructions through the BILT app
Convenient hinged cooking grate for adding charcoal while grilling
Lid hook to keep lid off the ground during use
Durable porcelain – enameled lid and bowl that retain heat and resist rusting
Cons
Limited cooking space compared to larger grills
Charcoal can be more time – consuming to light and maintain compared to gas grills
May require additional accessories for optimal grilling experience, such as a chimney starter or charcoal briquettes
The Weber Original Kettle Premium Charcoal Grill is perfect for the backyard BBQ enthusiast looking to elevate their grilling skills with a classic charcoal grill. With features like hinged cooking grates, porcelain enameled lid and bowl, one touch cleaning system, and rust-resistant aluminum dampers this product has everything you need to make your backyard barbecues the talk of the town – so get ready to take your grilling game up a notch!
2. Kamado Joe Classic II Charcoal Grill
Ultimate Versatility for Grilling and Smoking at Any Temperature
Highlights
Outdoor charcoal grill with a unique blaze red color
Spacious dimensions of 18″D x 18.11″W x 36″H
Durable construction with limited lifetime warranty on ceramic parts
Versatile cooking options with heat deflector, pizza stone, and thermometer included
Classic design with powder – coated finish for added durability and style
Easy to use and assemble, no batteries required
As an avid griller, I couldn't wait to get my hands on the Kamado Joe Classic II Charcoal Grill. With features such as the AMP FireBox and Air Lift Hinge, it's clear this grill is designed with efficiency and ease of use in mind. The six-piece FireBox design enhances grill functionality while eliminating breakage, setting it apart from other models. What struck me most was how easily you could lift the grill dome with one finger thanks to the Air Lift Hinge – a real game-changer that speaks volumes about its user-focused design.
One reason why we place this product at No. 2 on our list is due to its versatile cooking options courtesy of the 2-Tier Divide & Conquer system. It transforms traditional grilling into a multi-level experience, allowing you to cook different foods at various temperatures simultaneously. Whether you want to smoke your meats at 225F or sear them up hot at 750F using direct charcoal flavored heat, this grill has got you covered!
Moreover, with its thick-walled shell locking in moisture even when smoking over lower heat settings (thanks Kontrol Tower Top Vent!), every meal comes out succulent and full of flavor – truly demonstrating why Kamado Joe KJ23RHC Classic II 18-inch Charcoal Grill shines amongst competitors as a premium choice for any grilling enthusiast!
Pros
Advanced Multi – Panel FireBox design increases grill efficiency and eliminates breakage
Air Lift Hinge reduces dome weight for easy lifting with a single finger
Kontrol Tower Top Vent allows for precise airflow management during cooking
2 – Tier Divide & Conquer system enables cooking different foods at different temperatures simultaneously
Cons
The price of the Kamado Joe Classic II Charcoal Grill is higher compared to other charcoal grills on the market.
Some users may find it difficult to assemble the grill, especially if they are not familiar with similar products.
The size and weight of the grill may make it less portable and suitable for those who want to easily move their grill around.
The Kamado Joe Classic II Charcoal Grill is perfect for the sophisticated home cook who loves to entertain and impress their guests with amazing, restaurant-quality food. This product will allow them to easily switch between low and high temperature grilling techniques, making it ideal for anyone looking to broaden their outdoor cooking expertise. Try it today!
3. Char-Griller Akorn Kamado Charcoal Grill (Most Versatile) 
Versatile BBQ grill and smoker with unmatched heat control.
Highlights
Kamado style grill for versatile cooking options
Made with durable materials for long – lasting use
Charcoal fuel type for authentic flavor and searing capabilities
Compact design that fits in smaller outdoor spaces
Easy to clean and maintain for convenience
Excellent customer reviews and ratings
The Char-Griller Akorn Kamado Charcoal Grill is a fantastic investment for any grill enthusiast. Its design flaunts triple-walled steel insulation, which maintains the internal temperature efficiently whether it's high heat grilling or low and slow cooking. I was impressed by the huge 447 square inch total cooking area that can fit up to 27 burgers at one go — perfect for family barbecue parties or an ambitious cookout.
Easy usability is marked as one of its best features. Dual adjustable dampers and thermometer allow you to control the heat levels conveniently, making it a user-friendly experience even for beginners. The cherry on top is an easy dump ash pan that facilitates quick cleanup after your barbeque sessions. I found these features incredibly helpful in reducing post-grill maintenance time significantly.
We chose this gem from Char-Griller as No.3 in our list because despite its grand size, maneuverability isn't compromised thanks to its eight-inch locking caster wheels and foldable side shelf workstations with BBQ tool storage hooks provide practicality without cluttering space—a rare find among competitors! From my perspective, if you're seeking excellent searing, smoking, and superior low & slow cooking abilities all bundled into one robust package—the E16620 Akorn Kamado Charcoal Grill could be just what your patio needs!
Pros
Easy to use and clean with indexed adjustable dual dampers, thermometer, and removable ash pan
Best in class features such as triple – walled steel insulated design, cast iron grates, locking lid, and storage options
Large cooking area of 447 square inches can cook up to 27 burgers at once
Versatile kamado style grill perfect for high heat grilling and low and slow cooking
Cons
Heavy weight may make it difficult to move or transport.
The additional accessories, such as the grill cover and smokin' stone, are sold separately.
Some users have reported issues with the durability and longevity of certain parts of the grill.
This Char-Griller Akorn Kamado Charcoal Grill is perfect for the adventurous grill master looking to take their grilling and smoking experience to the next level. With its triple-walled steel insulated design, cast iron grates and locking lid, this kamado style BBQ grill & smoker offers unparalleled control of both high heat grilling and low and slow cooking. Get started on your journey today!
4. Weber Original Kettle Premium 22-Inch Charcoal Grill
Effortless grilling with easy charcoal addition and quick cleanup.
Highlights
Superior heat retention for even and consistent cooking
One-touch cleaning system for easy maintenance and hassle-free cleanup
Lid thermometer to monitor the internal temperature without opening the grill
Hinged cooking grate for easily adding charcoal or wood chips during grilling
Heat shield ensures safe handling and prevents burns while using the grill
Rust-resistant finish for long-lasting durability
The moment I laid eyes on the Weber Original Kettle Premium Charcoal Grill, I knew I was in for a treat. That sleek black, 22-inch frame isn't just a beauty to behold; it's a workhorse in disguise. I've always been a fan of grills that can withstand the test of time, and with its porcelain-enameled lid and bowl, this Weber promises just that. No worries about rust or peeling here, folks. And let me tell you, it holds onto heat like a champ, ensuring that my meats and veggies cook evenly every single time.
Now, I've been around the BBQ block a few times, and I've seen my fair share of grills. But what really got me excited about this Weber is its clever features. That hinged grate? A game-changer. Gone are the days of fumbling around with hot grids when I need to add more charcoal. And speaking of charcoal, the built-in lid thermometer is a godsend. No more guesswork when I'm grilling those tender cuts that need just the right touch.
But the real cherry on top? The One-Touch cleaning system. After a long day of grilling, the last thing I want to do is mess around with ash cleanup. Thanks to Weber, I can kick back and savor my BBQ creations without dreading the aftermath. And for those of you who love hosting big BBQ parties, this grill's got you covered. With its high-capacity ash catcher, you can grill up to 13 burgers at once using a Weber burger press. That's a whole lot of deliciousness!
Pros
Easy assembly with 3D interactive instructions through the BILT app
Convenient hinged cooking grate for adding charcoal while grilling
Lid hook prevents placing the lid on the ground and keeps it within reach
Durable porcelain – enamel lid and bowl retain heat, resist rusting, and peeling
Cons
Assembly instructions may be complicated for some users, especially those who are not familiar with using technology or apps.
The charcoal grill may take longer to heat up compared to gas grills, making it less convenient for quick and spontaneous grilling sessions.
Charcoal grills require more maintenance and cleaning compared to gas grills, as the ash needs to be regularly emptied and the grill needs to be properly seasoned.
This Weber Original Kettle Premium Charcoal Grill is perfect for the backyard barbecue chef who wants to easily add charcoal while grilling and clean up quickly afterwards.
5. PK Grills Original PK300
Ultimate portable charcoal grill and smoker for outdoor cooking enthusiasts.
Highlights
Charcoal fuel type for authentic smoky flavor
Stainless steel inner material for durability and heat retention
Aluminum outer material for lightweight portability
Graphite/Black color for a sleek and stylish look
Versatile charcoal BBQ grill and smoker in one
Large product dimensions provide ample cooking space
The PK Grills Original PK300 promises a top-notch grilling experience for any barbecue enthusiast.
This portable, versatile charcoal grill and smoker combo is ideal for an outdoor kitchen set-up or on-the-go grilling during camping trips, backyard gatherings, park outings, or tailgating events.
Crafted from sturdy aluminum, it assures durability whilst maintaining its lightweight nature for easy transport. The unique capsule shape design allows superior control over heat distribution with its four-point venting system – perfect for both low and slow cooking as well as hot and fast barbecuing.
Pros
Wide cooking surface allows for versatile cooking options
Taller design and hinged cooking grid make coal management easier
Four point venting system provides precise heat control
Authentic charcoal flavor cannot be replicated by other fuel sources
Cons
The PK Grills Original PK300 may be too large and heavy for some users to easily transport or move around.
The charcoal fuel required for this grill may not be as convenient or readily available as propane gas or pellets.
Some users may find the higher price point of the PK Grills Original PK300 to be a drawback compared to other portable charcoal grills on the market.
This product is perfect for the outdoor connoisseur seeking to craft delicious meals with ease. The PK Grills Original PK300 charcoal BBQ Grill and Smoker will provide perfect heat control, superior flavor, and effortless portability. 
6. Royal Gourmet 24-inch Charcoal BBQ Grill
Ultimate Grilling Experience with Easy Heat Control and Ash Collection
Highlights
Charcoal fuel type for authentic grilling flavor
Includes a warming rack for keeping food hot while grilling
Compact size of 24 inches makes it suitable for small spaces
Durable stainless steel frame material for long – lasting use
One – year warranty provided by the manufacturer
Easy assembly required with included components.
The Royal Gourmet 24-inch Charcoal BBQ Grill is a durable and reliable choice for those who are passionate about outdoor cooking. Its robust construction features a square tube leg cart with a sturdy steel bottom shelf, providing ample storage space. The built-in stainless steel bottle opener adds an extra touch of convenience during your backyard picnic or patio barbecue sessions.
One standout feature of this grill is the easy-lift charcoal pan adjustment system which offers excellent heat control and cooking flexibility. It equally possesses a front door with cool-touch handle ensuring you can safely reach and tend to your charcoal without any mishaps. Additionally, the grill includes 393 square inches of cooking grates coated in porcelain enamel steel wiring, along with an additional 205-square inch warming rack made from chrome steel wiring.
What's also impressive about the Royal Gourmet CD1824AC Charcoal Grill is its ease of cleaning post-cookout – thanks notably to its pull-out drawer designed to catch ashes efficiently. This thoughtful design minimizes the clean-up process, leaving more time for enjoyment. With heavy-duty lid-mounted temperature gauge and two fixed side shelves that offer extra seasoning area, it caters to all levels of BBQ fanatics looking for quality in their outdoor cooking equipment while not compromising on functionality or style.
Pros
Square tube leg cart with steel bottom shelf provides stability and storage space
Built – in stainless steel bottle opener for convenience during outdoor picnics and parties
Easy – lift charcoal pan adjustment system allows for precise heat control and cooking flexibility
Heavy-duty Lid-Mounted Temperature Gauge helps monitor cooking temperature accurately
Cons
Difficult to clean the ash drawer
The cooking grates may rust over time
Some users find the assembly process to be challenging
This Royal Gourmet BBQ Grill is perfect for the backyard chef who loves to make delicious grilled meals for family and friends. With easy-to-use heat control, convenient ash collection drawer, and plenty of space on the cooking grates, this charcoal grill is sure to be a hit at your next outdoor gathering! Buy yours now and become the master griller you always wanted to be.
7. Weber Deluxe Charcoal Grill
Quick and Easy BBQ Grilling with Gas Ignition System.
Highlights
Made in the USA
Durable aluminum construction
18,000 BTU heating power
Built – in installation type option
Includes charcoal fuel for authentic grilling flavor
Sleek black painted finish
The Weber Performer Deluxe Charcoal Grill is a top-of-the-line grilling machine that combines tradition with innovation. This 22-inch grill stands out from its competition due to the unique Touch-N-Go gas ignition system, which can fire up charcoal briquettes at the push of a button – no more hassle with lighter fluid or matches. The beauty of this feature lies in its convenience and ease of use, ensuring you spend less time prepping and more time enjoying your barbecue.
In terms of storage space, this model has plenty. It boasts a CharBin storage container for safeguarding charcoal against outdoor elements plus a handy metal table for prep work or utensils parking during grilling sessions. In short, The Weber Deluxe Charcoal Grill leaves nothing lacking when it comes to providing superior functionality paired with style and robustness right at your fingertips.
Pros
Easy assembly with 3D interactive instructions
Convenient cooking features like a removable LCD cook timer and built – in lid thermometer
Hassle-free cleaning with the aluminized steel One-Touch cleaning system and high-capacity ash catcher
Large cooking area of 363 square inches for versatile grilling options
Cons
Requires propane gas for ignition, which means additional cost and maintenance
Relatively heavy at 91 lbs, making it less portable than other charcoal grills
Assembly instructions are only available through a specific app, limiting accessibility for some users
The Weber Performer Deluxe Charcoal Grill is perfect for the BBQ enthusiast who likes to get grilling done quickly and easily. Make mealtime effortless with its innovative Gas Ignition System and conveniently sized cooking area, so you can start cooking in a snap!
8. Char-Griller Grand Champ
Ultimate weatherproof protection for your backyard grilling masterpiece!
Highlights
Adjustable closure for a custom fit
Durable black polyester, vinyl, and PVC construction
Brand: Char-Griller, a trusted name in grilling
Not discontinued by the manufacturer
Lightweight at 4.2 pounds for easy handling
Compact package dimensions for convenient storage
The Char-Griller Grand Champ is a robust and efficient addition to any BBQ enthusiast's arsenal. The heavy-duty black vinyl design not only gives it a sleek look but also provides excellent resistance against harmful elements that could deteriorate the grill's finish over time. From wind, sand, moisture, to intense sun rays and birds – this all-purpose adjustable cover ensures that your grill remains in pristine condition for years.
An impressive feature of the Char-Griller Smokin' Champ Grill Cover is its strategic design. It boasts expansion sleeves that perfectly fit around a side fire box and flue, offering comprehensive protection unlike many other covers on the market. Furthermore, the grill cover comes with water-resistant PVC lining enhancing its durability significantly. You'll appreciate how effortlessly you can extend your Smokin' Champ grill's life using this high-quality accessory.
When it comes to size compatibility, this premium flexible cover ranges between 60 to 70 inches – making it an ideal choice for various models such as Smokin Champ 1624 Smoking Champion Offset Smoker 1733 Blazer 2130 Classic 2175 among others. Overall, investing in the Char-Griller Grand Champ offers both protectiveness and easy maintenance which are key aspects for outdoor living products like grills or smokers.
Pros
Protects your grill from wind, sand, moisture, sun, and birds.
Adjustable cover fits tightly around your Char – Griller Grand Champ to provide optimal protection.
Expansion sleeves ensure a secure fit around the side fire box and flue for added protection.
Preserves the look and performance of your grill by preventing damage caused by external elements.
Cons
Limited durability; may tear or wear out over time
May not provide a tight fit on all models, leaving gaps for elements to seep in
Can be challenging to clean and maintain due to its size and fabric material
This Char-Griller Grand Champ Grill Cover is the perfect fit for the avid backyard barbecuer who takes pride in their outdoor cooking. With its adjustable cover and expansion sleeves, this grill cover offers weatherproof protection and style.
Benefits of Using a Charcoal Grill
Using a charcoal grill offers the benefit of authentic flavors that can't be replicated with other types of grills.
Authentic flavor
Charcoal grills bring a unique, smoky flavor to your dishes that is hard to replicate in any other style of cooking. Smoke from burning charcoal infuses into the food, enhancing its natural flavors and creating a rich, deep taste sensation.
The difference is particularly noticeable when grilling meats – those charred edges and the smoke-infused middle create an irresistible combination that's just not achievable on a gas or electric grill.
Whether you're cooking up burgers for a backyard BBQ or smoking a brisket all day long, it can't beat the authentic flavor offered by charcoal grills! Every bite of food cooked on these grills carries the essence of the great outdoors and traditional barbecues we remember from childhood days.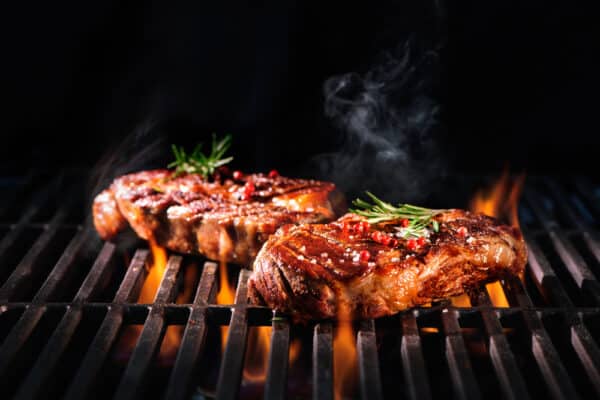 Versatility in cooking methods
Charcoal grills offer a wealth of versatility in the cooking methods they support. You can go beyond the typical grilling of burgers and hot dogs, embracing more complex techniques like low-and-slow smoking or high heat searing.
Grilled vegetables take on new life when kissed by charcoal smoke, while pizzas emerge from a grill with a crisp crust that's tough to replicate in any indoor oven.
That smoky essence imparted by charcoal also elevates baked goods. Muffins cooked on a grill? Absolutely! The unique flavor profile creates endless experimentation opportunities. And don't forget about using your grill as an outdoor stovetop – large pots full of chili or small pans filled with melting chocolate for s'mores show off another facet of charcoal barbecue versatility.
Whether you're planning an old-fashioned cookout or testing gourmet recipes, your trusty charcoal grill can handle it all.
Portability and ease of use
Charcoal grills offer a high level of portability that makes them ideal for outdoor cooking adventures. You can pack up most models with ease, fitting snugly in the back of your car for beach outings or camping trips.
Setup is typically a breeze as well; many charcoal grills require only minimal assembly and disassembly. Plus, their straightforward operation makes them user-friendly even for beginners to charcoal BBQ.
Just add your charcoal briquettes, light them and control your grill temperature for delicious results every time! With portable grills like these handy cooking equipment pieces, you're ready to take on any culinary challenge – whether in your backyard or the great outdoors!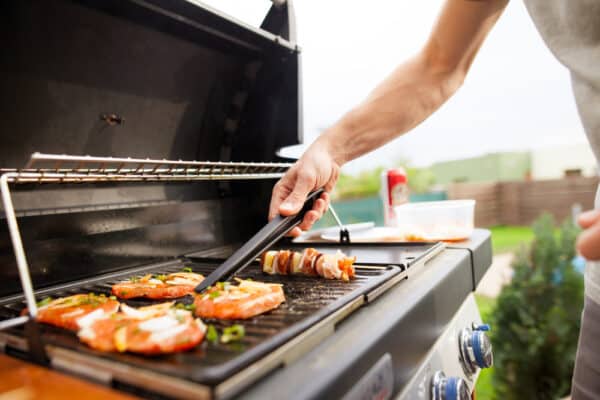 Factors to Consider When Choosing a Charcoal Grill
Size, construction materials, and temperature control features are important factors to consider when choosing a charcoal grill.
Size and cooking area
The size and cooking area of a charcoal grill are important factors to consider when choosing the right one for your needs. A larger grill with a spacious cooking area allows you to cook more food at once, making it great for entertaining or large gatherings. Make sure you use the right amount of charcoal for your grill.
On the other hand, if you have limited space or only cook for a small group, a smaller grill would be more practical. Consider how much food you typically cook and how many people you usually serve when deciding on the size of your charcoal grill.
Construction materials
The construction materials of a charcoal grill play a crucial role in its durability and performance. Look for grills that are made from high-quality materials such as stainless steel or cast iron.
Stainless steel is resistant to rust and corrosion, making it ideal for outdoor use. It also retains heat well, ensuring even cooking temperatures. Cast iron is another excellent choice, known for its exceptional heat retention and distribution properties.
It helps to create those beautiful grill marks on your food while ensuring consistent heat throughout the cooking process. Both stainless steel and cast iron are durable materials that will withstand the test of time, making them great options for your charcoal grill.
Temperature control features
I love using a charcoal grill because of its temperature control features. With these grills, you have complete control over the heat, allowing you to adjust it according to your cooking needs.
Whether you want high heat for searing steaks or low heat for slow-cooking ribs, a charcoal grill makes it easy to achieve the perfect temperature. This precision ensures that your food is cooked evenly and comes out just the way you like it.
Plus, with practice and experience, you'll become a master at controlling the temperature on your charcoal grill, making it an essential tool for any outdoor cooking enthusiast like me.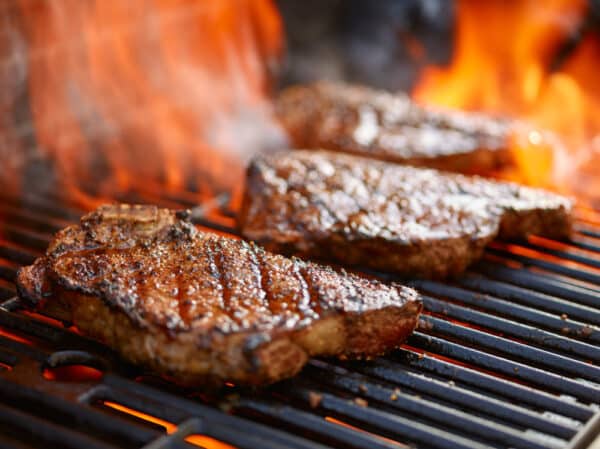 Features and Benefits of the Top Charcoal Grills
The top charcoal grills on the market offer a range of features and benefits that make them stand out from the competition. One key feature is their adjustable height, which allows you to easily control the distance between the heat source and your food.
This ensures even cooking and prevents any burnt or undercooked spots. Additionally, these grills often come with built-in temperature control features, such as vents or dampers, that allow you to easily adjust the airflow and maintain consistent heat levels for perfect grilling results every time.
Another notable feature of top charcoal grills is their durable construction materials. These grills are made from high-quality stainless steel or cast iron, which not only makes them sturdy and long-lasting but also helps distribute heat evenly across the cooking surface.
This means that your food will cook more evenly without any hot or cold spots.
Furthermore, top charcoal grills often come with additional accessories to enhance your grilling experience. Some models include side tables for extra workspace, hooks for hanging utensils, or ash catchers for easy cleanup.
These added features provide convenience and versatility while making your outdoor cooking sessions more enjoyable.
Overall, investing in a top charcoal grill will give you precise temperature control, even heat distribution, and added features that will make your grilling experience easier and more enjoyable.
Whether you're an amateur backyard chef or a seasoned grill master, these top-of-the-line charcoal grills are sure to elevate your outdoor cooking game.
Tips for Using a Charcoal Grill
Properly lighting the charcoal, controlling the heat, and cleaning and maintenance are essential for successful charcoal grilling. Want to learn more about these tips? Keep reading!
Properly lighting the charcoal
To properly light the charcoal for your grill, start by arranging the briquettes in a pyramid shape in the center of the grill. Make sure there is enough space between each briquette for air to circulate.
Next, carefully pour lighter fluid over the charcoal, using about 1/4 cup per pound of charcoal. Let it soak for a few minutes before lighting a match and carefully igniting the coals from several spots.
Once they are lit, allow them to burn until they have turned gray and are covered with white ash. This will typically take about 15-20 minutes. Finally, use long-handled tongs to spread out the coals evenly across the bottom of the grill before placing your cooking grate on top and starting your barbecue adventure!
Controlling the heat
Controlling the heat is crucial when using a charcoal grill. To adjust the temperature, simply open or close the vents on your grill's lid and bottom. Opening them allows more oxygen in, which increases the heat, while closing them restricts airflow and lowers the temperature.
Additionally, you can arrange the briquettes to create different "heat zones" on your grill by placing more coals in one area for high heat cooking and fewer coals for lower heat cooking.
This gives you greater control over how your food cooks and prevents it from burning or undercooking. Experiment with different vent settings and coal arrangements to find the perfect balance of heat for your grilling needs!
Cleaning and maintenance
To keep your charcoal grill in top shape, regular cleaning and maintenance are essential. After each use, make sure to remove any leftover ashes and debris from the grill grates and ash catcher.
Use a wire brush to scrub off any stuck-on food particles, then rinse with warm soapy water. Don't forget to clean the inside of the lid as well.
Periodically check for rust or wear on the grill's exterior and replace any damaged parts. It's also important to clean out the vents and air intakes regularly to ensure proper airflow during cooking.
This will help maintain consistent heat throughout your grilling sessions.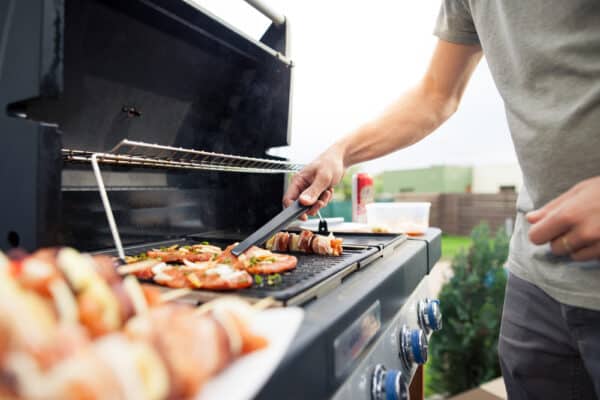 Conclusion
In conclusion, when it comes to charcoal grilling, nothing beats the authentic flavor and versatility that these grills offer. Whether you're a backyard BBQ enthusiast or a camping fanatic, investing in a high-quality charcoal grill will take your outdoor cooking to the next level.
After thorough research and reviews, I highly recommend the Weber Original Kettle Charcoal Grill for its superior heat retention and easy maintenance features. For those looking for an upgrade with added style and functionality, the Kamado Joe Classic II Charcoal Grill is a fantastic option that offers versatile cooking options and a durable construction.
Don't miss out on these top-rated charcoal grills – get yours today!
Learn More About Grilling
If you want to learn more about grilling, check out these other helpful resources!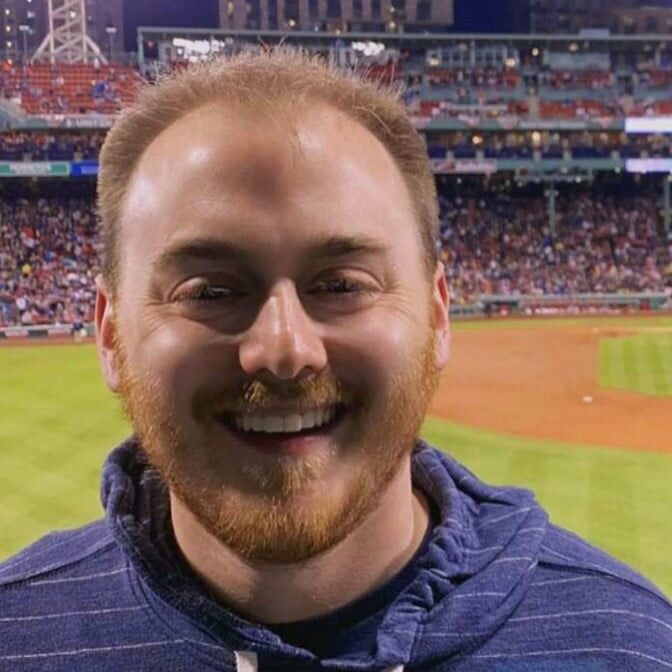 Patrick Harvey
Patrick is a life long grilling enthusiast with an eye for product development and user experience. His expertise helps us test and review all of the products you see the website.
About The Grilling Master
Hi there, I'm Kevin Turner, Founder and CEO of thegrillingmaster.com. 
My passion has always been grilling, smoking and BBQ delicious meats that satisfy my inner carnivore!
I started this website to share my passion and knowledge with you, the hungry reader who wants to prepare the perfect meal. 
You can leverage my years of experience as a pit master and professional. 
Send me a message and let's connect on Twitter here.